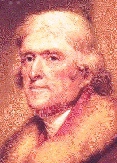 Thomas Jefferson
Some Additional Resources

Thomas Jefferson on Politics & Government
A site created by the University of Virginia,
which was founded by Jefferson. Explore
Jefferson's own words.



B.L. Rayner's Life of Thomas Jefferson
A biography of Jefferson written in 1836.



The DNA Testing of Thomas Jefferson & Sally Hemings
An excellent site compiled by the operators of Monticello.
Provides full coverage of Jefferson's relationship with Sally
Hemings.